Natalie Driessen, MD
Dr. Natalie Driessen is a board-certified plastic surgeon who spent six years training in an intensive and vigorous hands-on environment at Loma Linda University in plastic surgery. Through this training, she has developed a passion for her patients and their overall wellbeing. This passion has led her to specialize in cosmetic surgery, breast reconstruction, and Mohs reconstructive surgery. Along with her drive for optimum results, she brings a special compassion to the Coachella Valley communities. She offers the latest techniques in an extensive range of aesthetic and reconstructive surgery.
Charitable work is also a focus for Dr. Driessen. She had the honor to be a part of multiple medical mission trips and has dedicated herself to helping her local community.
Dr. Natalie Driessen earned her medical degree from Northeast Ohio Medical University where her dedication shinned through, as she graduated second in her class out of 127 students. During medical school she volunteered for Habitat for Humanity projects. She is now the current chief of plastic surgery at the Eisenhower Health Center.
Dr. Driessen tailors her services for each individual she cares for. Her goal is to create surgical results that help a patient feel their best self. Her highest priority is to truly listen and understand her patients and their needs and expectations. Dr. Driessen wants every patient to feel confident and comfortable with their experience. She understands surgery can seem scary, whether necessary or elective, and being able to guide a patient through that process is extremely important and this sets her apart.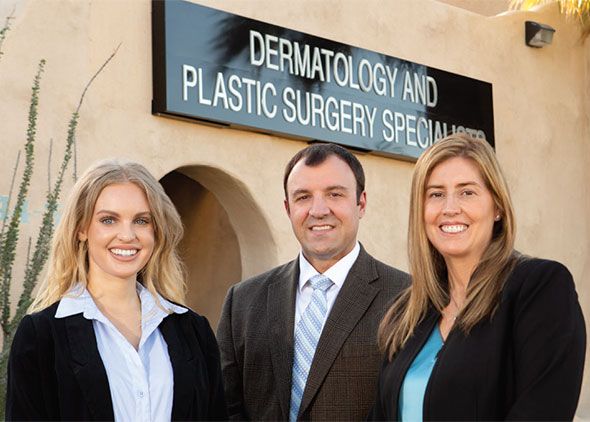 Dr. Driessen is happily married and has two wonderful children. She loves being a mom and a wife and enjoys spending quality time with her family.
Natalie Driessen and Michael Messina first met as students in medical school, fell in love, and were married by their third year in 2006. But to make their wedded bliss complete, they'd have to do their residency at the same hospital. The process of applying together — known in academia as "couples matching" — is rare, stressful, and unlikely to yield success. "Pretty much everyone told us it was not going to happen," Dr. Driessen says. Adds Dr. Messina: "Not only do you have to be a top student but you have to be a good person, sociable — you need to be good all around."
To their great relief, in 2007, the duo was drafted by their first choice: Loma Linda University School of Medicine. Dr. Driessen, born in Seattle but raised in Dana Point, California, was elated to return to her home state. Dr. Messina, a Long Island native and Golden State newcomer, quickly grew enamored of it. "I love California, its people, its diversity, its weather," he says. "Loma Linda has such a great reputation. I knew I'd get all the education I needed there."
When Dr. Messina completed his training in dermatology in 2011, he found a position at a large dermatology practice in Rancho Mirage while waiting for Dr. Driessen — who had their two children while at Loma Linda — to wrap up her plastic residency in 2013. In January 2017, after a few years of working on their own and saving up resources, the two fulfilled another long-held dream when they purchased a 2,800-squarefoot building on Monterey Avenue in Palm Desert, gutted and rebuilt it, and married their expertise to create Dermatology and Plastic Surgery Specialists. The joint practice employs a staff of 12, including physician assistant Brittany Denue, who pulls double duty by serving both doctors.
"I would say mine is a 50/50 practice," Dr. Driessen says. "While I love everything on the cosmetic side — tummy tucks, mommy makeovers, liposuction, breast augmentation, Brazilian butt lifts — I'm also passionate about breast and facial reconstruction."
While Dr. Messina can handle all the staples of dermatology such as acne, psoriasis, and eczema, his specialty is Mohs micrographic surgery, a skin cancer procedure that has the highest cure rate, the lowest recurrence rate, and the best cosmetic results. "We cut out the cancer and only the cancer, sparing the normal surrounding tissue," he says. "So in sensitive areas — eyelids, noses, ears — you're not taking out more than necessary." So keen to prevent and cure cancer is Dr. Messina (especially here in the desert) that patients are often taken aback by the thoroughness of his assessments. "They say, 'You're going to look through my hair? You're going to look at the bottom of my feet?' I respond, 'Yeah, that's a full-body exam.'"
A plastic surgeon setting up a joint practice with a dermatologist is rare; husband-and-wife teams are practically unheard of. "There's one other couple we know of, and they're on the East Coast," says Dr. Driessen. "The wife is the dermatologist. The husband is the plastic surgeon."
Having both specialties under one roof certainly makes sense. "Many of my dermatology patients ask me, 'What's the best thing for my skin? How can I get rid of these wrinkles?' Dr. Messina says. "So I say, 'Here are the things you need, but you should also meet with Dr. Driessen and Brittany to discuss your lasers or peels, Botox, you name it.'"
Likewise, Dr. Driessen takes great care of her husband's Mohs patients. "I have the ability to take them to the hospital and fix them," she says. "People don't have to walk around looking like a shark bit them. I can make an entire brand-new ear for them. I can redo their nose."
It's their joint practice's capacity to save patients time, energy, and anxiety that most fulfills this pair. "We've always wanted to take care of patients like they're our family," Dr. Messina says. "We make ourselves available to them. We answer and return their calls personally, which isn't common. If I were to receive a cancer diagnosis, I'd rather hear it from my doctor than from his or her nurse." Adds Dr. Driessen: "When you come to us, you won't ever feel like a number. The turning and burning, turning and burning — sure, that makes more money, but it's not a philosophy either one of us has."
While Dr. Driessen admits to missing the ocean of her childhood, no one's going anywhere. "My parents still live in Dana Point," she says. "It's not that far of a drive to get to the water." Further proof that Dermatology and Plastic Surgery Specialists will remain a desert fixture? The spouses — who still live with 8-year-old Luke and 10-year-old Katelyn in the same Beaumont home they purchased while Loma Linda residents — have acquired the building next door to their current offices to expand their physical space by 2,400 square feet and their medical capabilities immeasurably. "I'm going to have an operating room and a medispa," Dr. Driessen says excitedly. "We still commute every day because we just want to throw everything back into the business."
Concludes Dr. Messina: "Working in the desert for the last seven years has just been the best experience ever."